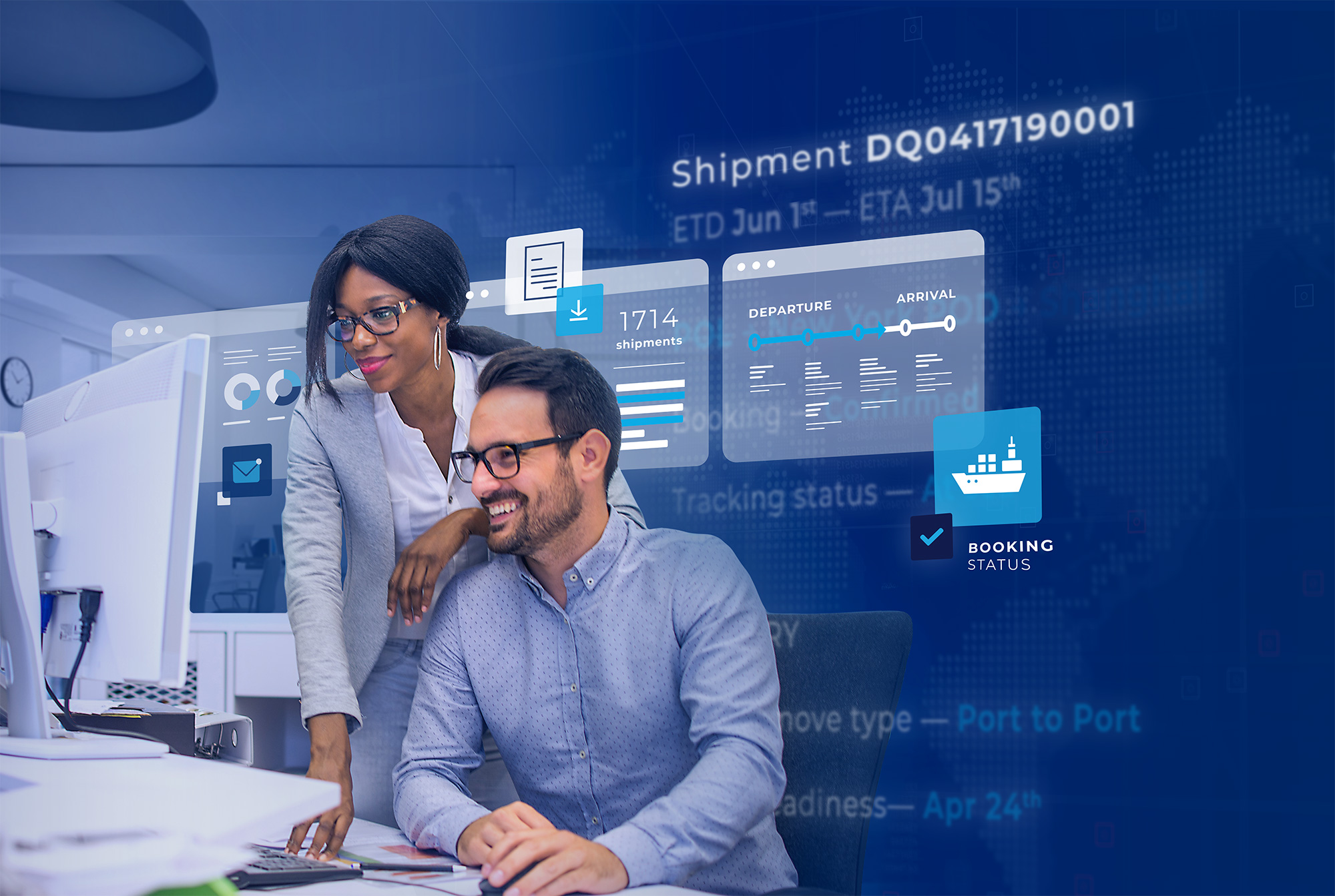 Maritime shipping is an integral part of world trade. About 80% of all cargo is transported by sea. This form of transportation is much faster than transportation by road or rail and much cheaper than shipping by air.
That said, there is a certain degree of uncertainty in shipping. Containers may be accidentally offloaded at the wrong port, a vessel may be delayed and so on. This is where the need for container tracking software arises.
Having real-time visibility over containers at all times allows shippers to plan for exceptions and deliver orders on time.
There are many types of container tracking software available on the market today. However, you need to spend time to make sure you select the best container tracking software for your organization. Container tracking software that meets your operational needs, budget and more. Here's a quick guide to picking the right container tracking software for your company:
What does a Container Tracking Software do?
Container tracking software gives you visibility over where a container is while in transit and even when it is in warehouses or on the way to the port. It also offers information such as when a container is scheduled to leave a port, where and when it will dock next and the expected time of arrival at its final destination.
A good container tracking software will give you real-time alerts every time the container crosses an important milestone in the journey. For example, you will receive an alert every time the ship enters and leaves a port.
This automated system of container tracking gives cargo owners and shippers actionable insights to ensure that orders reach customers on time.
Features You Need in Your Container Tracking Software
When it comes to shipping containers, choosing the right container tracking software is as important as using the right carrier. Here are the top 4 factors to be considered when comparing container tracking software.
Real-Time Container Tracking
You need a container tracking software that provides real-time updates so that you have sufficient reaction time. It should also list accurate ETDs/ATDs and ETAs/ATAs. Ideally, this should be calculated by taking the current vessel movement and historical data into account.
You probably have more than one container in transit at a time and you need to track them all. Thus, the software should give you access to tracking information from all the different containers and carriers in use on a single platform.
Container Tracking at Your Warehouse of Industrial Sites
Containers often have to wait at warehouses and industrial sites before and after being loaded. Rather than keep track of this type of container movement manually, your container tracking software should manage tracking your containers inland as well.
Look for a container tracking software that records container movement in and out of the gate and provides full visibility over the site through regular reports. It should also allow you to assign tasks and customize a workflow. This helps increase productivity, reduces your margin of error and cuts down on logistics costs.
Complete Centralized Visibility
The container tracking software you choose should give you centralized visibility and control over each container from the time it leaves your factory until when it is delivered to the customer's doorstep as well as historical data.
Having access to historical information such as the carrier's history of on-time deliveries and delays allows you to correctly estimate ETAs/ATAs and choose the best route so as to proactively avoid delays.
Ability to Manage All Other Aspects of Container Shipping
The best container tracking software does a lot more than just track container movement. It also helps simplify all other aspects of container shipping.
For example, you should be able to search for shipping schedules by different carriers, compare rates, ETAs/ETDs, etc. to find the best carrier for each consignment. You should also be able to book the selected vessel, plan cargo movement and acquire, share and manage documentation centrally. This simplifies operations and ensures that all stakeholders are on the same page.
When you're looking for container tracking software, evaluate the software's ability to manage other aspects of container shipping based on your KPIs. For example, if your company is trying to lower its carbon footprint, you would need to know the carbon emissions along each route.
7 Top Container Tracking Software
BuyCo

BuyCo is a collaborative digital hub for all maritime operations. Using data sourced from 97% of all ocean carriers, BuyCo provides real-time container tracking information and automates shipping operations to streamline operations and boost efficiency. If your schedule is disrupted for any reason, BuyCo helps you take proactive measures to make alternative arrangements so that your customer still receives the goods on time.
It goes beyond its core functionality as a tracking software to also list shipping schedules by multiple carriers between ports for easy comparison and route selection. You can find the best route for your shipment while taking multiple factors such as delivery timelines, allocations, CO2 emissions, etc. into consideration. All aspects of container shipping ranging from scheduling and booking to planning, document sharing and reporting are centralized so as to optimize productivity and maintain cost efficiency.
Project44
Project 44 is an Integration Platform as a Service (iPaaS) solution that tracks containers across different modes of transportation in 120 countries. It also helps with inventory management and automates certain shipping-related processes such as scheduling and document retrieval.
Fourkites
The Fourkites visibility platform offers real-time inputs on container positions at every stage of shipping along with predictive ETAs and email alerts for potential disruptions. It also automates appointment scheduling and provides curated insights.
Shippeo
Shippeo offers multimodal container tracking in 75 countries and a machine learning-based algorithm to predict potential disruptions and estimate realistic ETDs/ ETAs. This information can be further shared through a link or customer visibility portal.
GateHouse
GateHouse provides container vessel schedules as well as historic and real-time container tracking information by sourcing data from ports and AIS transponders on vessels. It also uses ML models to predict dynamic ETAs and send out notifications on potential delays.
Vizion
Vizion offers access to detailed container tracking information throughout the supply chain with 6-hourly updates. It allows stakeholders to track shipments by master booking, container numbers and a master bill of lading.
PortCast
Portcast is a SaaS platform that provides predictive visibility over shipping containers and demand forecasting. It tracks containers from their port of loading to the final port of discharge. In addition, Portcast offers early warning notifications for unexpected disruptions.
5 Things to Consider Before Purchasing a Container Tracking Software
Easy to Start
Picking software that takes months to set up results in a waste of time, effort and money. What's worse, if the solution does not work for your needs, you'll have to start the process again from scratch.
Hence, you need a container tracking software that can be set up quickly and is easy to integrate with your existing system. Always test a software out before buying it.
Easy to Use
Not everyone on your team will necessarily be tech-friendly. Pick a container tracking software with ergonomic, intuitive dashboards. You don't want to set up a software and then find that your team cannot operate it. Bringing on another person to your team simply to operate the software would be an unnecessary additional expense.
When you're operating the trial version, evaluate its ease of usage and your team's ability to operate it instinctively. This ensures that information is more accessible to your teams. A user-friendly interface is also critical to the scalability of the software's use across your organization.
Integratable
All systems are usually interlinked. Hence, you should be able to integrate the container tracking software with your existing TMS and ERP systems. This minimizes the disruptions to your existing processes and workflow. Thus, it's easier to adopt and eliminates time-consuming manual processes.
Choosing a cloud-based solution helps further by making sure shipping information is readily available as and when needed.
Reliable Data
The usefulness of tracking information is directly related to how accurate it is. To make data-driven decisions for your shipping operations, you need access to reliable, real-time data.
For data to be reliable, the container tracking software should rely on not only tracking the container but also information from other sources such as the ports in transit. The minimizes the risk of errors and gives you trusted ETDs and ETAs.
Collaborative
There are multiple players involved in every shipping operation. To ensure that everyone is on the same page, your container tracking software should facilitate collaboration and ease communication. All members should be able to share documents and information centrally while maintaining requisite confidentiality. Similarly, updates and alerts should be shared with all concerned parties.
Summing It Up
Knowing where your containers are at all times is complex but necessary. A container tracking software is one of the most important tools required to streamline and maintain an efficient, smooth shipping operation. Your best choice is a software like the BuyCo Container Tracking Software that gives you visibility as well as control over your entire shipping operation.
About BuyCo Container Tracking Software
BuyCo is the leading Container Shipping Platform for ocean transportation. Designed for exporters and importers managing large volumes, the platform connects to 97% of all ocean carriers to simplify, secure, and automate daily shipping tasks. BuyCo centralizes the members of the supply chain to streamline operations and provide visibility to all parties. BuyCo's customers reduce costs by cutting down internal, carrier, and freight forwarding expenses.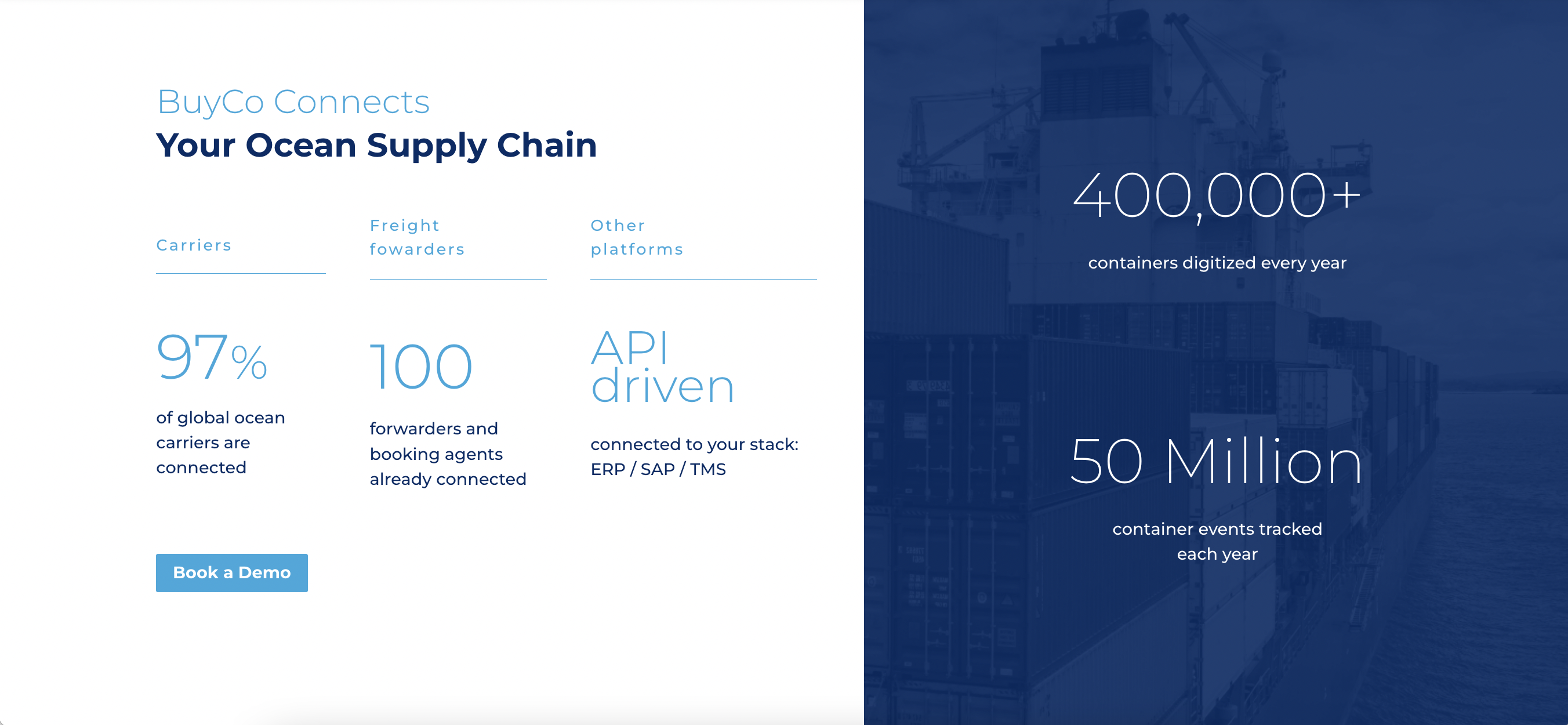 BuyCo Is Trusted By The Most Advanced Shippers