Are automation, collaboration and visibility just industry buzzwords or a reality in the maritime supply chain?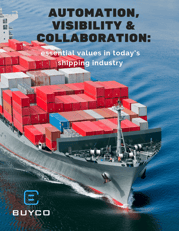 We surveyed the market, studied concepts, and examined results from recent studies to truly decipher if these necessities are being properly implemented in logistics processes.

Download this White Paper to discover these findings, as well as:
how to achieve greater automation in your shipping operations

how to make your logistics flow more visible

how to bring about greater collaboration between your in-house team and logistics partners.



Download this White Paper