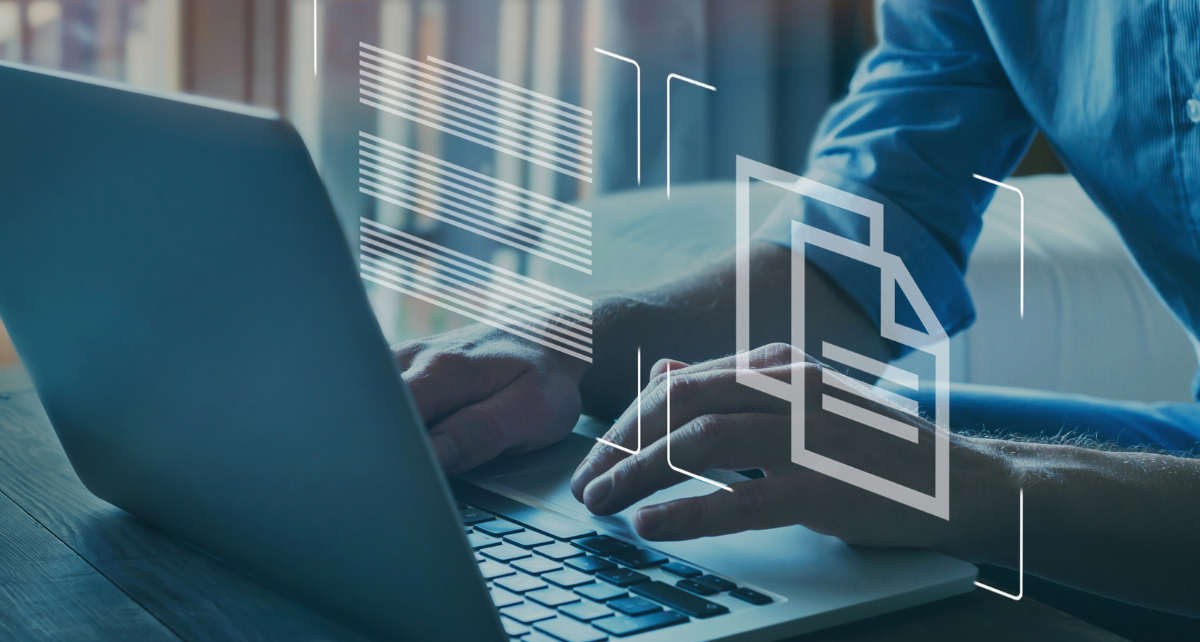 As an exporter you have multiple containers leaving your warehouse every day for different destinations. Keeping track of what each container contains, cargo type, its weight, custom requirements, consignee's details, etc. can be confusing. Missing information can hold up your entire supply chain. For example, if a container reaches the port without appropriate customs paperwork, it won't be released from the port. Or, if the consignee's name is not clearly mentioned, there may be confusion at the time of delivery. Thus, you need to have all your shipping documentation in place.
This begins with creating detailed shipping instructions. It is the details on this document that will later be used to create a Bill of Lading or Sea Waybill. Keep reading to learn more about shipping instructions and how to simplify your shipping documentation.
What are shipping instructions?
Shipping instructions refer to a legal document that contains detailed information about the shipment and logistics instructions. This document is created by the exporter and handed over to the carrier or freight forwarder. Once the freight forwarder receives this document, they will begin arranging transportation and logistics accordingly.
Some freight companies require shipping instructions to be formatted in custom layouts that suit their processes. Thus, creating these instructions manually can be a time-consuming exercise.
What is the mandatory information required in shipping instructions?
Irrespective of the format shipping instructions are presented in, certain details are mandatory.
Shipment number
Each package must have a unique shipment number. One container may have multiple packages with different shipment numbers. This shipment number is important for end-to-end tracking.
Every company may follow a different way to format shipment numbers. It is usually alphanumeric. This shipment number will also be shared with the customer expecting order delivery.
Container number
Container numbers are unique sequences used to identify and track containers as they move between ports. This number is displayed on the container door towards the top right. A container number typically has 4 letters followed by 7 numbers. It has 4 parts.
The first three letters reflect the owner's prefix. For example, all Maersk containers start with MAE while Hapag Lloyd containers have container numbers starting with HAM.
The fourth letter is an equipment category identifier. The 7 numbers following the letters can also be broken into two parts. The first part has 6 digits. This refers to the serial number and is allocated by the container owner. The last digit is known as a check digit. This is used to validate the complete identification sequence with the Bureau of International Containers (BIC).
Total number of packages
Your shipping instructions should include the total number of packages in each container as well as the overall total number of packages in all the containers being sent as one shipment. This helps ensure that nothing goes missing while in transit.
Type of package being shipped
The type of package will determine where the container is loaded on a ship as well as where it is held at port. For example, let's say you are shipping fresh produce in refrigerated containers. These containers will need to be loaded and unloaded quickly since the container will be unable to maintain its internal temperature and pressure for more than a few hours when it is unplugged.
The gross weight of the cargo
This refers to the total weight of the shipment. Your shipper will need to know the total weight of the product and the weight of the packaging material being used for transportation.
There are two reasons why this is important. Firstly, the weight of the cargo and the container will determine where it is loaded on the ship. To keep cargo from toppling over, the heaviest containers are loaded at the bottom and the lightest ones are loaded on the top. Further, they face import/export fees based on the cargo weight. Secondly, knowing the gross weight of the cargo helps freight forwarders choose the right truck transportation to deliver the cargo from the port to the delivery point.
Terms of payment
Shipping products over the oceans involves considerable risk. Hence, choosing the appropriate payment terms is important. This must then be listed in the shipping instructions to avoid any misunderstanding.
When you're negotiating terms of payment, there are several factors to be included; loading charges, insurance, import and export duty, taxes, origin and destination terminal charges, carriage charges, etc.
Payment may be made in advance, through a letter of credit from the bank, an open account or a telegraphic transfer.
Cargo description
When it comes to customs clearance, cargo must be described in detail or it may be held up. It isn't enough for the shipper to know that the container is transporting agricultural products. An acceptable cargo description would be the type of agricultural products being transported, i.e. apples, rice, bananas, etc. Similarly, if you're shipping wires, the cargo description should specify whether the container has copper wires or steel wires.
Shipper's name & address
The shipper refers to the exporter. They are responsible for packing and prepping the cargo as well as handling all documentation and paperwork.
The shipping instructions must clearly state the shipper's registered name and main office address.
Consignee's name & address
The consignee is usually the owner of the goods and the person receiving the cargo. The consignee may be a company or an individual. Unless otherwise negotiated, the consignee must receive the cargo in person.
Hence, it is important to have the consignee's full name and address listed in the shipping instructions.
Other details
Depending on the country the products are being shipped from and the final port or receipt, many other local customs or regulations details may also need to be listed in the shipping instructions.
For example, food products being exported from India will need certificates issued by the Export Inspection Council (EIC) that vouch for the safety and quality of the goods.
When is the deadline for shipping instructions?
The last date for submitting shipping instructions depends on the cargo destination and the vessel. Usually, when a booking is confirmed, the shipper will be informed about the deadline for shipping instructions.
There is an easier way.
You can share details with freight forwarders and carriers on the BuyCo platform and automate shipping instructions according to shipment characteristics. The concerned parties will be automatically notified of their responsibilities.
This helps avoid cluttered email inboxes and streamlines document management while helping you maximize your time. It also ensures that everyone has access to accurate, up-to-date documents.
How do I submit my shipping instructions?
Shipping instructions can be submitted directly on the carrier's website. As mentioned before, carriers may use different formats for shipping instructions. Hence, it's important to check with the carrier, use their online processes or use a Container Shipping Platform like BuyCo to ensure you have all the information you need for each carrier.
Can I submit shipping instructions in my own language?
When it comes to international trade, all shipping instructions must be in English. This ensures that they are understandable by all authorities at the origin and destination ports as well as any intermediate ports the ship may stop at.
Why were my shipping instructions rejected?
Shipping instructions may be rejected for a variety of reasons. It may be as simple as an incorrectly entered detail that can be edited and re-submitted or local or commodity restrictions. When shipping instructions are rejected, a reason for the rejection is provided along with possible steps that may be taken. To avoid getting your shipping instructions rejected, use a Container Shipping Platform to help ensure you have everything you need and reduce the margin of manual error.
How do I avoid manually creating Shipping instructions?
Creating shipping instructions manually is slow and prone to error. There is a high risk of the shipping instructions being rejected. To avoid this, automate the generation of shipping instructions with BuyCo.
BuyCo makes it easy to request and share data. All of this shared data is stored centrally to avoid email clutter and keep information accessible. To create shipping instructions on BuyCo, information can be sourced via APIs directly from the customer ERPs or the shipment definition/requirements. Thus, there is no need to type in the details again.
Accuracy is assured and your team can operate more efficiently.
How do I automate sending Shipping Instructions?
BuyCo automates the process of generating and submitting shipping instructions. When data is entered or found in the Shipment planning, BuyCo takes this data to automatically fill out the shipping instructions for you.
If you have to send multiple shipping instructions on multiple similar shipments, the SI can be filled out and sent in bulk and at scale.
How do I manage my Shipping Instructions most efficiently?
BuyCo simplifies container shipping and helps you make the most efficient use of available resources. When it comes to document management and shipping instructions, this collaborative platform centralizes all communication and automates processes.
Firstly, BuyCo allows you to manage all planned and ongoing cargo movements on the same platform. It is connected to 97% of all global ocean carriers and thus, there is no need to visit individual carrier websites.
Secondly, the system can be easily integrated with existing ERP/SAP/TMS through APIs. This makes extracting and sharing information easier and minimizes the risk of error.
Thirdly, all information is stored centrally and accessible to all stakeholders. If a document is updated by one player, everyone else will also see the latest information. This puts all players on the same page and helps avoid confusion at ports.
Lastly, BuyCo helps automate various operational processes including the generation and sharing of shipping instructions. In cases where the cargo, carriers, destinations, etc. are the same, shipment references, cargo requirements, documents, etc. can be duplicated to further save time.
Shipping Instructions Template Example: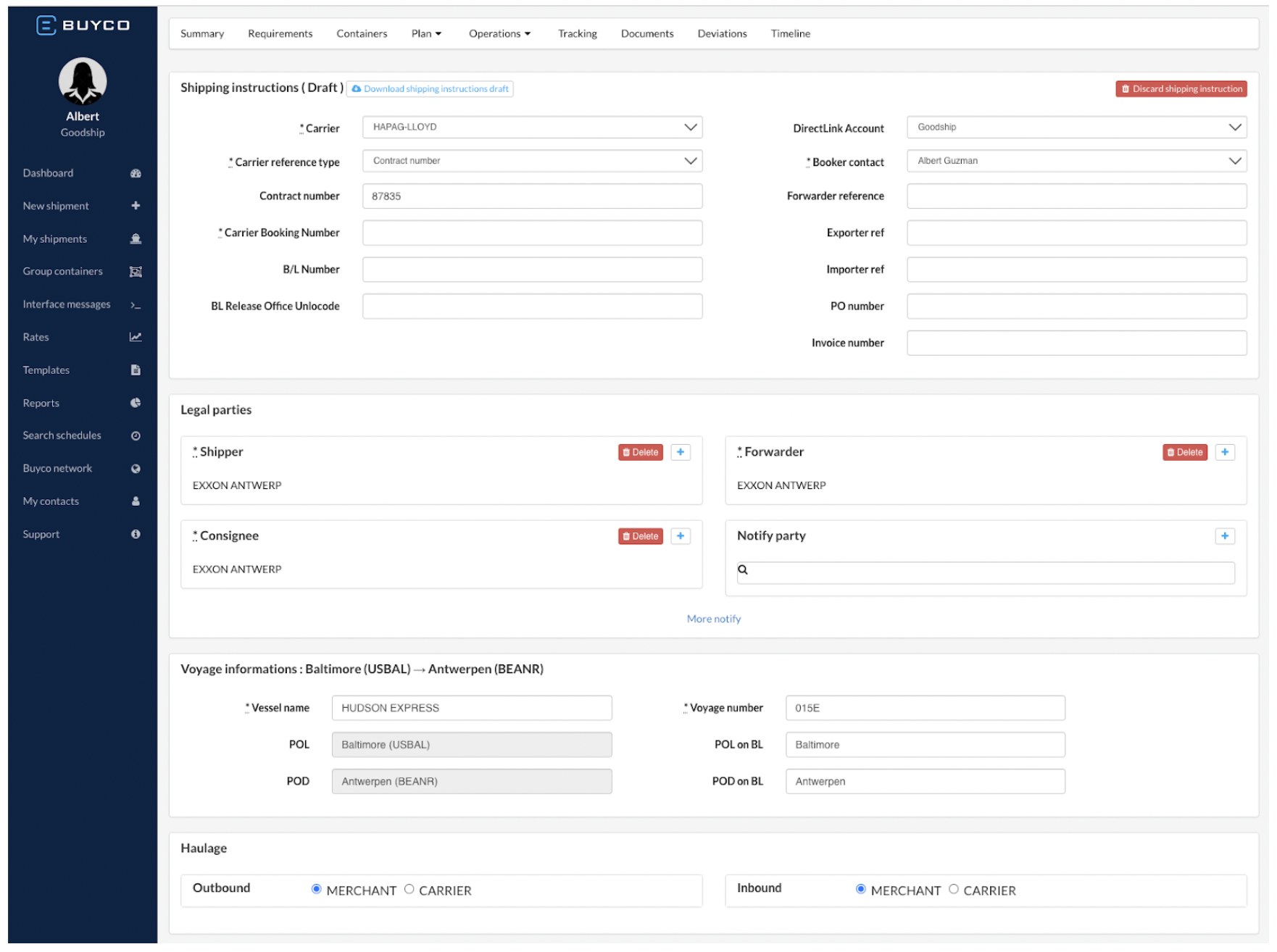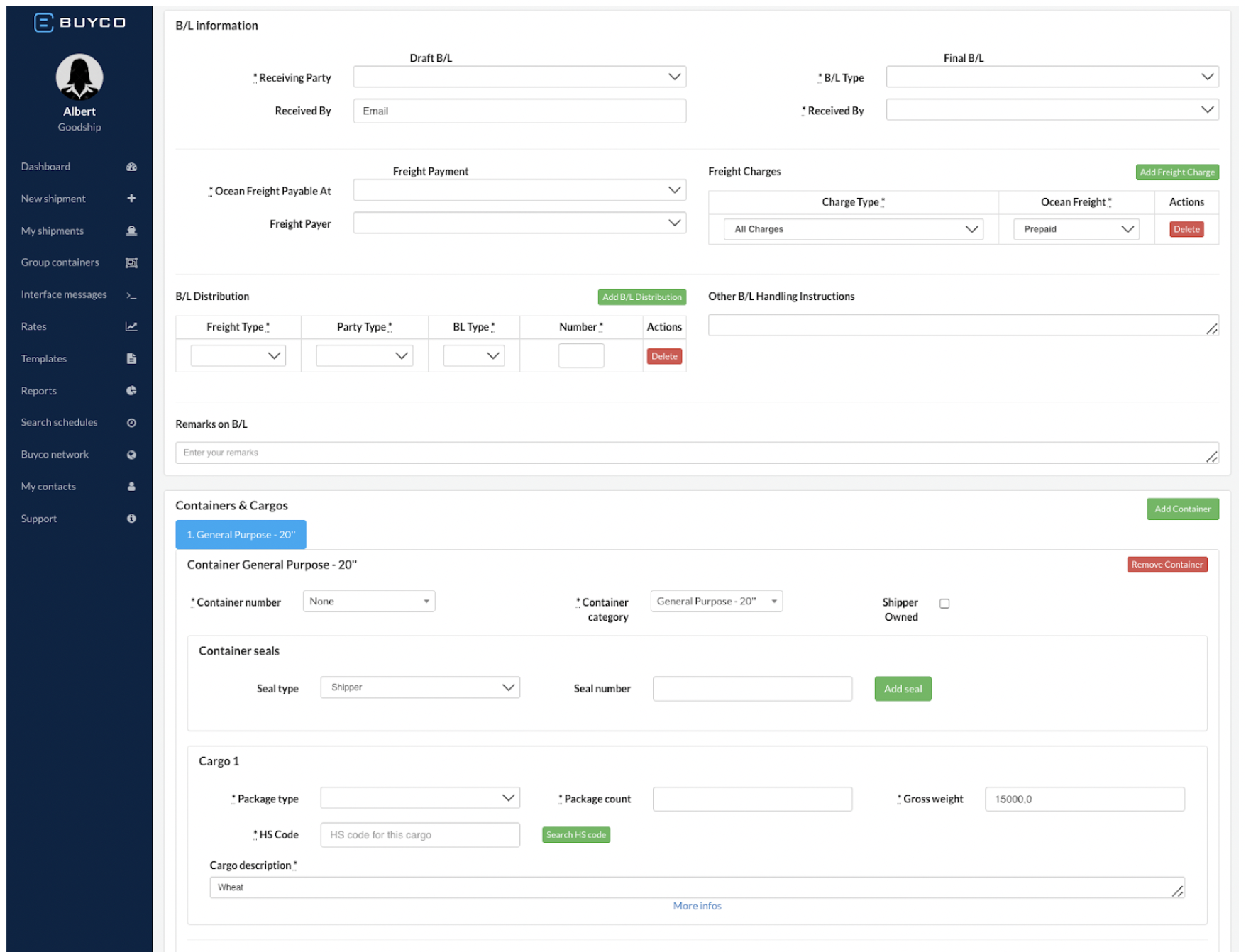 In Conclusion
Complete, accurate documentation is critical to running smooth shipping operations. Your Shipping Instructions can be considered the foundation of all documentation for each shipment. Other documents such as the Bill of Lading used for tracking, etc. will be created on the basis of this document. Rather than work on creating shipping instructions manually, BuyCo allows you to automate the process. This saves time and effort, ensures that all the relevant details are mentioned and minimizes the risk of error.