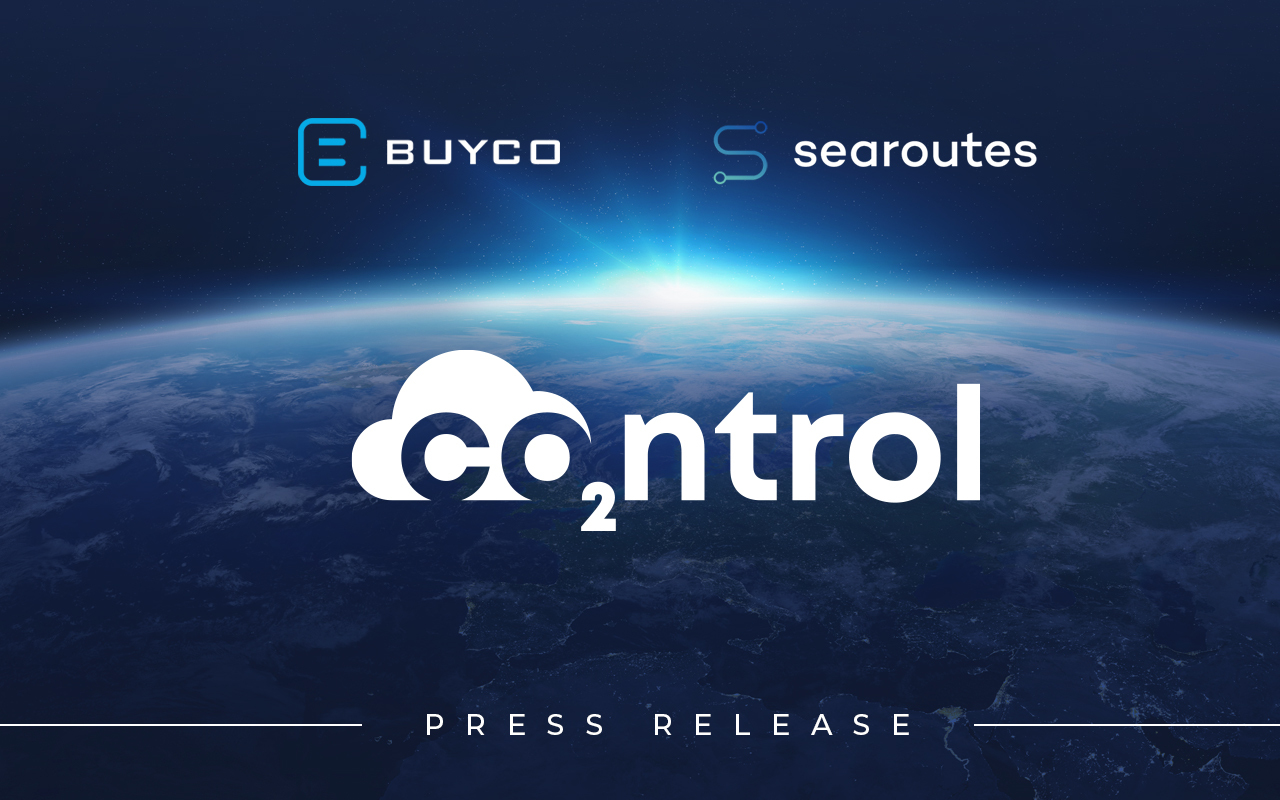 Marseilles, November 29th 2021
Together, BuyCo and Searoutes' project, CO₂NTROL, has been selected to receive €2.6 million from Blue Economy Window's grant funding along with 9 other projects. In total, the European Maritime and Fisheries Fund, funded by the European Commission, is providing €20 million for sustainable projects.
The purpose of the Blue Economy Window grant is to invest in sustainable technology projects to support coastal communities, decarbonisation, and the EU Green Deal objectives.
After a thorough selection process, BuyCo and Searoutes' CO₂NTROL project has been chosen to receive part of the grant funding with their collaborative platform that helps shippers take control of their CO₂ emissions.
The joint solution will help importers and exporters measure their CO₂ emissions, select shipping routes that emit the least amount of CO₂ to cut down their carbon footprint, and compensate for the remaining carbon footprint to eventually become carbon neutral.
Searoutes' exclusive technology, developed from its own algorithms, makes it possible to process and transform very large databases related to freight (historical position of vessels, engine characteristics, information on timetables, weather forecast, etc.) into usable information for shippers. They can thus measure emissions from previous expeditions, reduce emissions in real time, and predict future ones.
By integrating Searoute's solution into the BuyCo platform, shippers can now search routes of 97% of the world's ocean carriers to select the most clean, affordable routes available according to Searoutes' estimation. In this way, shippers instantly have the data they need to select the most eco-friendly shipping route for any given shipment.
Ultimately, BuyCo and Searoute's CO₂NTROL project aims to provide exporters and importers with a fully integrated end to end solution to plan, manage, and track shipments with minimal environmental impact.
Today, with the effect of CO₂ on climate change and taxes on emissions, exporters and importers alike are looking for ways to reduce their carbon footprint.
Thus, with the funding coming from the Blue Economy Window grant, BuyCo and Searoutes plan on launching the product and getting it into the hands of large exporters and importers that want to create a sustainable brand and have a positive impact on the environment.
About BuyCo
Founded in 2015 by experienced logistics specialists, BuyCo is the leading Container Shipping Platform for ocean transportation. BuyCo offers exporters and importers a digital, neutral, innovative and intuitive platform that allows companies to plan, book, automate and monitor their international container shipments in collaboration with their various partners. As a result, shippers gain in efficiency, visibility, and, therefore, responsiveness and control as well. Thanks to a clear interface and a high-quality digital experience, BuyCo also enables their customers to reduce external costs and improve the satisfaction of their teams and end customers. BuyCo received €6.5 million in equity funding since inception and the digital platform manages over 400,000 containers per year, over more than 60 countries.
About Searoutes
Searoutes is a start-up specialising in innovative digital solutions for the sea, air and logistics sector. It was founded in Marseilles, France, in January 2019. The company was set up by two co-founders - Dr. Pierre Garreau and Mr. Carsten Bullemer, two sailing enthusiasts and experts in the logistics and maritime industries. Searoutes is the first distance calculation service that uses historical ship data collected from AIS signals. The company developed the backbone of its routing algorithms in collaboration with LIS - QARMA at the University of Aix-Marseille. Searoutes provides the maritime and logistics industry with real-time routes and a CO₂ emissions calculator to encourage more environmentally friendly routing and greener freight transport. Searoutes joined the ZEBOX fast track programme in January 2019. It also has an office in Hamburg, Germany, to forge new partnerships in the logistics industry.
Press contact
Geoffroy Willaume: geoffroy@buyco.co
​​

This project has received funding from the European Maritime and Fisheries Fund of the European Union under grant agreement No 101038570.