Press Release: LogTech BuyCo welcomes GO CAPITAL and SUD MER INVEST as new shareholders to continue making container shipping
Press Release
BuyCo
Jul 24, 2023 10:29:13 AM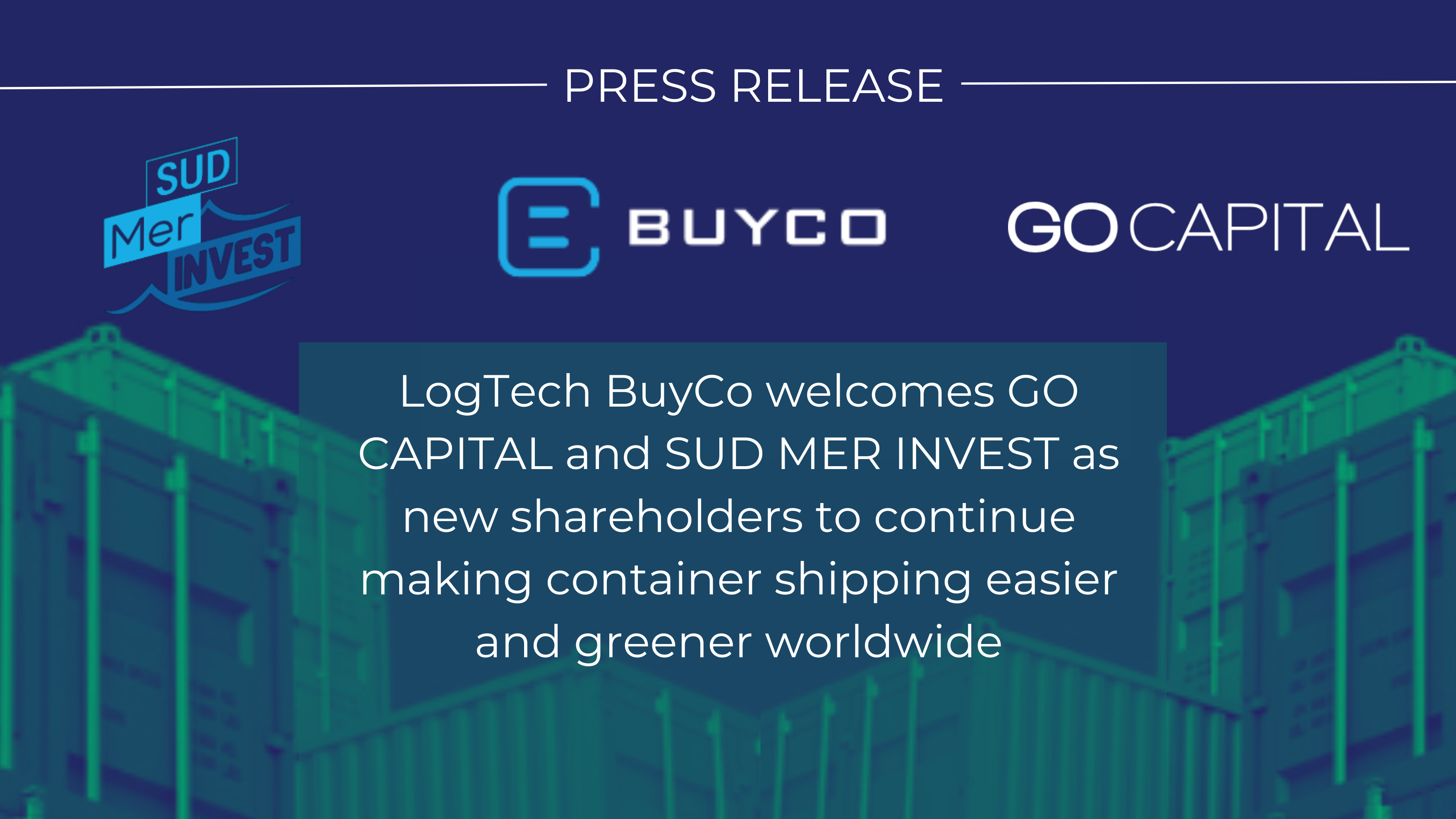 BuyCo, a young French company developing a SaaS platform for container shipping management, has just completed a series A financing round with the Impact Océan Capital fund, managed by GO CAPITAL and the SUD MER INVEST fund, backed by Banque Populaire du Sud, to accelerate the development of innovation and environmental impact, and fuel international growth.
Founded in 2015 and operated by a team of 64 employees based in 6 countries, BuyCo offers an innovative digital platform that enables exporters and importers to plan, book and track their container shipments by easing collaboration between everyone involved in a shipment. BuyCo is connected to almost all container shipping lines worldwide, enabling exporters and importers to simplify and automate operational tasks involved in their shipments. By centralizing all sea freight data and sharing it with stakeholders, BuyCo makes container shipping more efficient, transparent and profitable.
Founded by supply chain experts with over 80 years of combined experience, BuyCo is developed daily by a team with in-depth knowledge of the container shipping industry. Since its establishment, the company has been financed by a number of business angels, as well as the CMA CGM group and the ODDO BHF group.
In addition to the innovation that the BuyCo platform offers to importers and exporters in their container transport operations, it was the environmental focus that convinced GO CAPITAL to join the shareholder base. This is the Impact Océan Capital fund's first investment that supports innovative impact companies in France's maritime industry. BuyCo is fully in line with the objectives set by the management company: to support innovative technology companies working to protect the oceans and decarbonize maritime activities.
This round of financing is in line with BuyCo's ongoing commitment to decarbonize container shipping. They have already benefited from a European subsidy under the Blue Economy Window program in this field. In particular, this additional funding will enable BuyCo to enhance the capabilities of its platform to help shippers reduce their CO₂ emissions.
BuyCo's solution has already been deployed with industrial leaders such as TotalEnergies, AB
InBev, Yara and Renault. The new financing will enable BuyCo to pursue its technical, operational and commercial development to conquer new markets in Europe, North America, and pursue its expansion in Asia.
Carl Lauron, CEO and founder of BuyCo, commented: "BuyCo's offer represents a unique opportunity for high-volume shippers to achieve digital transformation in their container supply chain. It gives operational staff an intuitive tool to consider CO2 in the criteria for selecting the best door-to-door routing and the best vessel. GO CAPITAL's support is a real asset in enabling BuyCo to accelerate and make a significant impact on an international scale."
Clémentine Breysse, Investment Officer at GO CAPITAL added: "Our decision to invest in BuyCo through our new Impact Océan Capital fund is motivated by the conviction that digital technology can and must play a central role in building sustainable solutions for the ocean. BuyCo proves that France harbors real potential for maritime innovation, fueled by the emergence of recent technologies in maritime transport. BuyCo has developed an innovative and efficient platform that meets the needs of its initial customers and the expectations of an industry in search of sustainability. We are proud to be part of BuyCo's next phase of expansion."
Benoit Viguier, Chairman of SUD MER INVEST: "We are very proud to support BuyCo in a new phase of its development. By offering to digitize the highly complex global shipping sector, BuyCo, through its collaborative platform, simplifies container shipments for shippers managing large volumes. It provides visibility and security for logistics flows worldwide. Our Sud Mer Invest fund had a duty to support the management team and their project, which is driven with magnificent ambition. More broadly, all the teams at Banque Populaire du Sud and Crédit Maritime Méditerranée are committed to working alongside our customers to meet the challenges of transforming and developing a responsible blue economy."
About BuyCo
BuyCo develops a digital container management platform (Container Shipping TMS). Designed for exporters and importers managing large volumes of containers, the SaaS platform connects ocean carriers, freight forwarders and all other shipment participants in a single place. By connecting stakeholders, simplifying and automating day-to-day shipping tasks, and increasing their visibility, BuyCo transforms container shipping into a more efficient, transparent and profitable practice.
Press contact: Sylvain Fambon - sylvain.fambon@buyco.co

About GO CAPITAL
GO CAPITAL, an independent asset management company, is a major player in seed capital and innovation capital. Composed of investors with complementary sector experience, the team has a solid track-record in DeepTech. The Impact Océan Capital fund, Art. 9 SFDR fund, with a €70 million endowment, is a major player in the financing of the decarbonization of the maritime economy and the protection of the oceans in France.
GO Capital press relations:
Anna Casal - casal.anna@gmail.com / +33 6 50 61 55 71
GO Capital investment team:
Jerome Gueret, Managing Director - jerome.gueret@gocapital.fr / +33 6 76 84 76 96
Clementine Breysse, Associate - clementine.breysse@gocapital.fr / +33 7 64 47 97 79
About SUD MER INVEST
Sud Mer Invest is the Blue Economy investment fund of Banque Populaire du Sud and Crédit Maritime Méditerranée. It provides seed, development and buyout financing to support the development of innovative maritime businesses in Occitanie and the South of France.
Advisors: Spark, PACA'FID, EY Ventury
SPARK - Ariane OLIVE, Mathieu DUCCESCHI and Florian MAYOR (BuyCo legal support)
EY Ventury Avocats - Julien TAMAGNO (legal due diligence and support for GO CAPITAL)
PACA'FID - Michaël TOUZIS (tax, accounting, social and financial review)