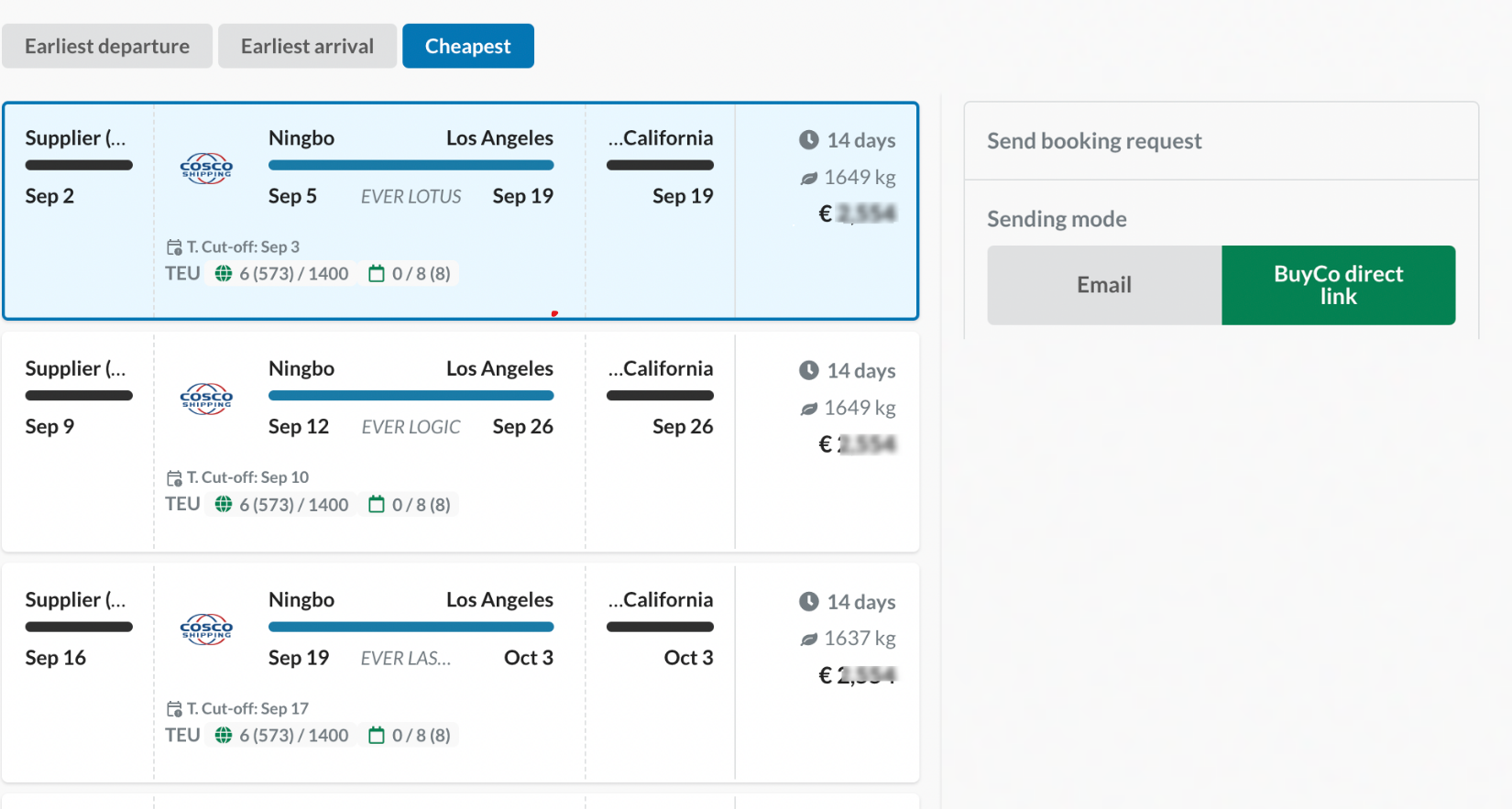 Are you tired of the tedious process of booking containerized ocean freight? Having to visit multiple carrier websites, collect schedules in an excel file, cross-reference tenders, and crunch numbers to find the best schedule; then having to connect again to the shipping line e-commerce site for booking- If this sounds all too familiar, you're not alone. At BuyCo, we understand the frustration, that's why we offer a much simpler and more efficient solution.
With BuyCo, you can manage all your container shipments in one place, regardless of the carrier. Our digital tools, specifically designed for container shipping, empower your team to execute operations faster than ever before. Say goodbye to the complexities of the booking process and embrace a streamlined approach.
The process of booking with just three clicks
With BuyCo's extensive network of shipping lines, you can conveniently access all the schedules for your carriers in one central platform. This means you have the power to effortlessly send booking requests and receive instant booking confirmations, all in a streamlined, digital manner.
Furthermore, BuyCo acts as a secure repository for your ocean freight contracts, housing crucial information such as the negotiated prices with your carriers and the intricate details of your allocations.
Scan the best schedules across all your carriers

Select the best vessel that fits your transport needs and business requirements

Book with the shipping line and start monitoring the status of your booking to make sure your shipment will be executed the right way



Book containers even faster
Booking containers in just 3 clicks is an incredible feat, especially when you're booking one shipment at a time. But with BuyCo, you can take it a step further and effortlessly book a group of shipments, all with the same ease as booking just one shipment. This not only saves you time, but it also multiplies the efficiency of your staff. It's like magic!
The secret lies in BuyCo's automatic selection of the best vessel schedules that perfectly align with your own business criteria. Whether it's your preferred day of departure or arrival, transit time, freight price, allocations, or a mix of these criteria, BuyCo ensures that you get the best options available. Say goodbye to the hassle of manually searching for the ideal schedules – BuyCo has got you covered! Then, you can book in one click for the entire group of shipments.
The benefits
For shippers handling a large volume of container bookings, it is not uncommon for them to have dedicated resources, sometimes consisting of teams of several tens of people, to carry out this task.
Using BuyCo in this particular scenario offers various advantages, including cost savings for your organization and delivering top-notch service to your customers or intragroup customers.
Cost savings for your organization
By optimizing your container booking resources, you can immediately cut down on staff expenses. BuyCo users typically experience a threefold increase in staff productivity. With the same amount of time, one staff member can manage 30 shipments instead of just 10. If you currently require 10 staff members to handle your shipments at an average cost of €70k per year, that amounts to a total cost of €700,000. With BuyCo, you can reduce this expense to €230k.
Not only will you save money, but you will also gain a valuable asset for retaining your staff, thereby reducing the costs associated with staff turnover and hiring/training new employees. BuyCo provides a user-friendly and intuitive solution for managing your shipments. People enjoy working with it because it simplifies their lives by automating repetitive tasks, allowing them to focus on more valuable activities, such as managing shipment exceptions. This ensures that your staff has the necessary tools to make their work engaging and motivating.
Furthermore, BuyCo makes it easier for your team to scale your container transportation operations. The software is designed to empower individuals without expertise in container shipping to quickly become experts in the field. Therefore, anyone on your team can instantly become a knowledgeable container shipping professional.
Making the shipping process more robust to delight your customers
The advancement of digitalization and automation in container shipping is revolutionizing the booking process, resulting in faster and higher-quality transactions. This transformative practice is the key to elevating customer service, providing enhanced visibility, and establishing a more reliable and efficient process. Furthermore, it equips businesses with the agility to swiftly address any unforeseen circumstances that may arise.
Conclusion
Advanced shippers are increasingly turning to BuyCo to streamline their container shipping process, making it more efficient and hassle-free. With BuyCo, they not only experience improved staff efficiency but also gain enhanced visibility and control over their operations.
The benefits go beyond just increasing staff efficiency; the Return On Investment is exceptionally fast.
Discover "how BuyCo can help you reduce your overall container transport costs, dive into our comprehensive white paper " 10 metrics to measure the ROI of an Ocean TMS":