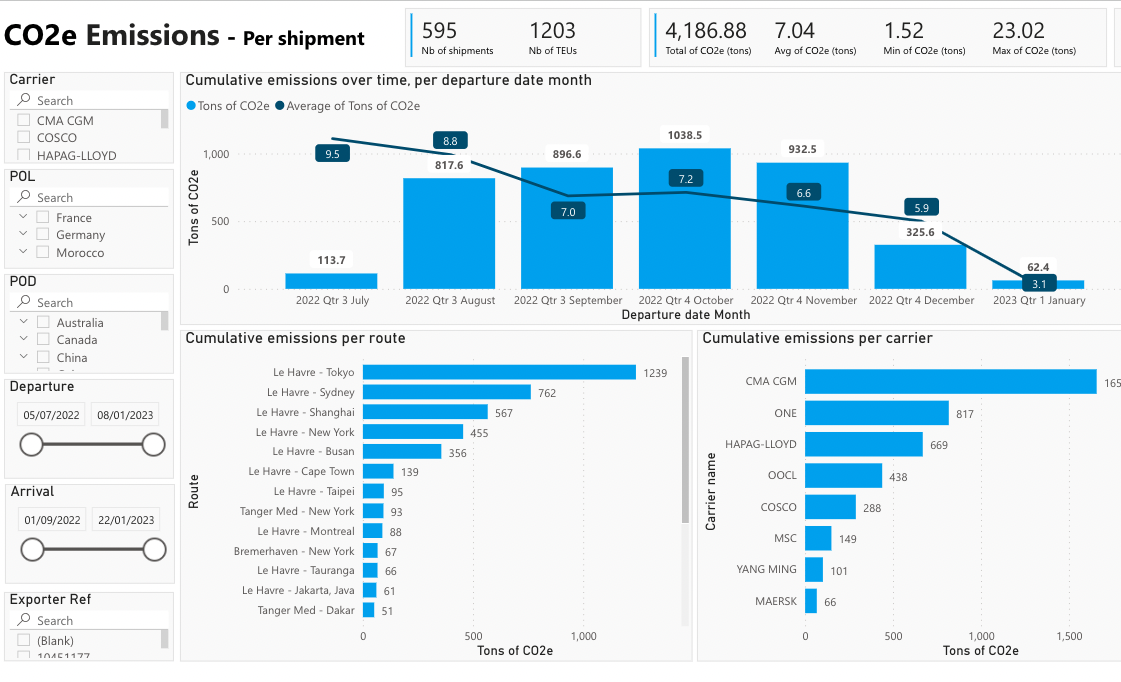 The drive for decarbonization is fueled by consumer expectations, regulations, and corporate social responsibility objectives. Shipping alone is responsible for emitting 940 million tonnes of CO2 annually, contributing to 2.5% of global greenhouse gas emissions. Shippers are faced with two primary objectives :
1. Reporting on their CO2 emissions
2. Taking action to reduce their carbon footprint
However, shippers encounter various challenges in attaining these goals. To address this, BuyCo offers a solution that not only facilitates reporting but also contributes to the reduction of emissions.
Reporting on

CO

2 emissions
Regulations require shippers to report their CO2 emissions. Measuring is also required for shippers to control their emissions and ultimately reduce them. Reporting on CO2emissions can be complex for shippers due to:
1. Data availability: Ensuring that the necessary data for reporting is accessible and properly formatted for aggregation.
2. Data accuracy: CO2 emissions are typically calculated as an average for a particular trade lane. However, the actual emissions vary significantly depending on vessel characteristics, such as engine and fuel type, as well as speed. Thus, emissions can differ greatly for the same trade lane.
BuyCo is a container TMS (Transportation Management System) that centralizes all shipment details. With a robust methodology for calculating CO2 emissions, the platform enables shippers to report on all their shipments, regardless of the shipping line, trade lane, or Incoterms. By leveraging GLEC-accredited data, BuyCo provides consistent and reportable information that aligns with corporate auditing requirements.
BuyCo's CO2 calculations are based on estimating fuel consumption for specific vessels, serving two key purposes:
1. Accurate reporting of past CO2 emissions for a specific fleet or collection of bookings.
2. Providing reliable statistics during the tendering phase when the specific vessels carrying goods are unknown.
Their modeling methodology follows the International Maritime Organization's (IMO) publications, which consider factors such as:
- Distance
- Engine power
- Vessel characteristics
- Speed
By using BuyCo, shippers can easily comply with regulations while saving time and effort on data gathering and reporting.
Acting to reduce the shipper's carbon footprint
In terms of reducing a shipper's carbon footprint, the majority of emissions in container shipping fall under scope 3 (emissions not directly produced by the company but by vessels operated by shipping lines). However, this does not mean that shippers cannot take action to address these emissions. To effectively reduce the carbon footprint associated with container shipping, it is crucial for operational teams, who deal with container shipping daily, to have the necessary tools to make informed decisions regarding transport plans, including selecting the most environmentally friendly route and vessel.
However, transport managers cannot always define once for all the absolute best vessel or route for every shipment. They need to deal with other considerations such as:
- transit time
- freight cost
- weekly allocations, and yearly volume breakdowns
This makes it challenging to optimize day-to-day operations. BuyCo addresses this challenge by empowering operational teams to contribute to corporate decarbonization objectives.
BuyCo is an operational container TMS that allows shippers to define their transport requirements, including origin, destination, and number and type of containers. The platform is connected to almost all shipping lines, consolidating their schedules in one place. Using the calculation method described earlier, BuyCo estimates CO2 emissions for each transport option available, considering routing and vessel engine characteristics for all shipping lines and routes.
Based on the shipper's specific business criteria, such as cost, allocation compliance, and CO2 emissions volume, BuyCo suggests the best option to select. Shippers can then proceed to book their shipments electronically through BuyCo.
The time of booking is a crucial moment that enables operational teams to make a significant impact on CO2 emissions. By considering all constraints that govern container shipment planning, such as selecting the most environmentally friendly vessel, operational teams can truly optimize their choice when it matters most—at the booking stage.
In conclusion, BuyCo not only helps shippers comply with regulations but also saves them time and effort on data gathering and reporting. It goes beyond reporting by empowering operational teams to proactively reduce scope 3 emissions through informed vessel and routing choices. Additionally, BuyCo provides analytics capabilities to understand which carrier can most effectively contribute to lowering a shipper's carbon footprint.
To learn more in depth about how shippers can reduce their carbon footprint, check out our e-book on "7 Ways Shippers Can Have a Direct Impact on CO2 Emissions"