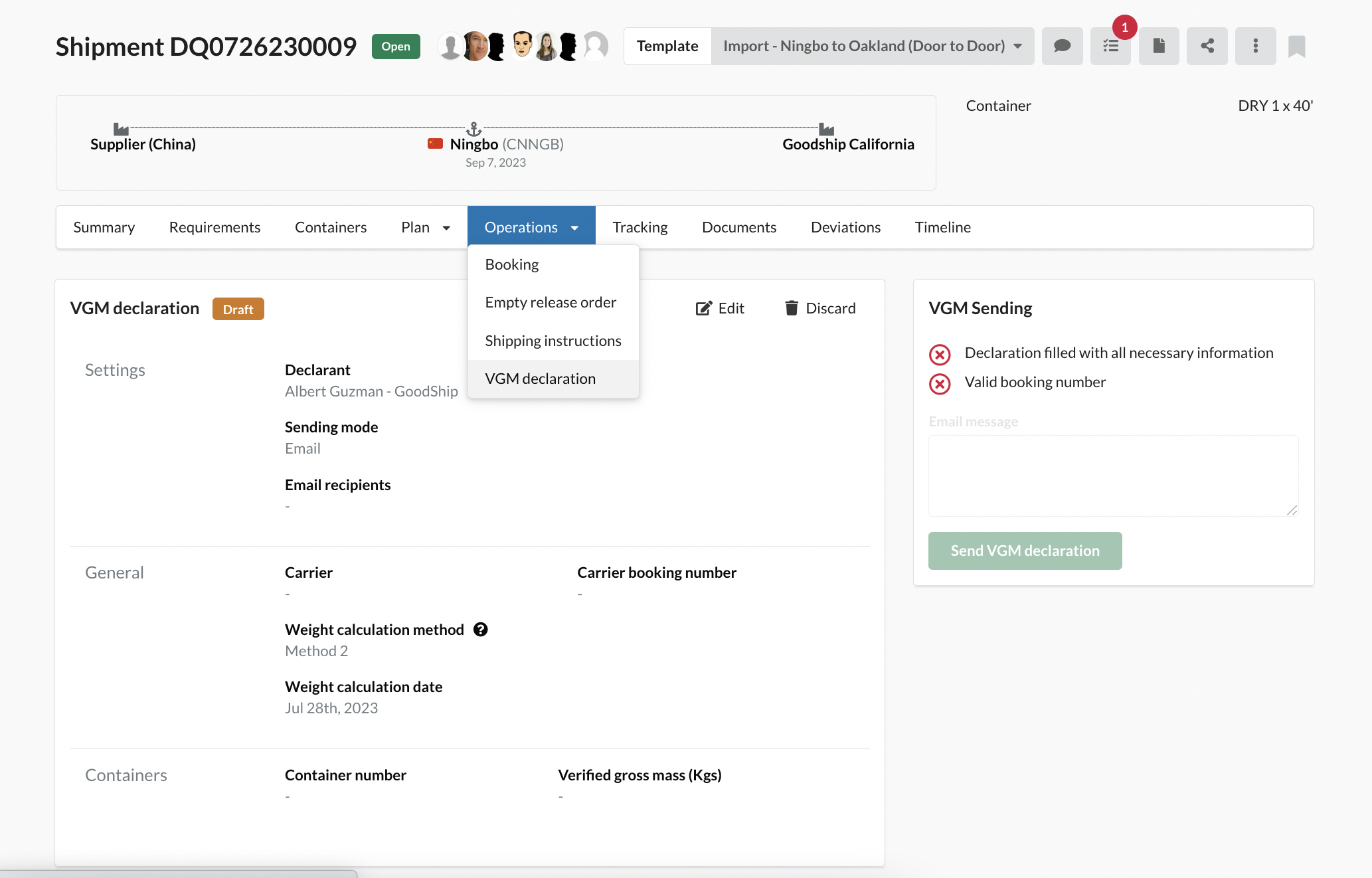 Before a container can be loaded onto a ship, the shipper must provide its Verified Gross Mass (VGM). There are no exceptions to this requirement. Hence, if you forget to send out this declaration, loading will be delayed.
Errors in manually reported VGM can compromise the safety of the ship and increase the risk of damage to your containers. The better solution – filling and sending VGM electronically. Let's take a look at what eVGM is all about and the benefits it offers.
About eVGM
VGM refers to the total weight of a container with all its cargo. This is inclusive of the weight of packaging, palettes, securing equipment, etc. involved in holding your cargo within the container.
VGM can be calculated by weighing a packed and sealed container using a certified weighing bridge or summing up the weight of all packed cargo items, securing equipment and the container tare weight as printed on the container's safety approval plate.
Reporting a container's VGM is a shipper's responsibility. It was made mandatory by the International Maritime Organization in 2016 with a view to improve maritime safety. Knowledge of accurate VGM empowers carriers to plan container distribution in a way that balances weight and thus minimizes the risk of damage.
VGM declarations can be submitted manually, but this isn't ideal. eVGM refers to using technology-driven tools to electronically fill in and submit VGM declarations. Tools like BuyCo let you automate data extraction from shipment templates or API connections with your ERP to generate error-free VGM declarations in a timely manner.
Benefits of eVGM
Some of the benefits of submitting container VGM declarations electronically are:
Minimize errors
When any data is typed in manually, there is always the risk of an error. Discrepancies in weight can lead to expensive penalties. Even a minor mistake like an additional digit after the container number can delay loading and affect your entire logistics flow.
With BuyCo, there is no need for manual data entry for VGM declarations. Data is automatically extracted from your ERP through API connections. Thus, the risk of error is lower and there is no chance of double entries.
Stay on top of your VGM status
VGM declarations must be submitted independently for each container. For shippers sending out multiple containers every day, keeping track of VGM declaration status can be tricky.
BuyCo simplifies this tracking process. A glance at the shipper's BuyCo dashboard will indicate the status of all VGM declarations. You can see which declarations have been drafted and which are yet to be done, declarations that have been sent, those that have been accepted as well as declarations that have been canceled for any reason. You can then take appropriate action.
On-time VGM submissions
Delays in VGM submission can hold up container loading. A VGM declaration must be ideally shared before the container reaches the loading terminal. Many terminals may refuse to accept containers without a VGM declaration.
BuyCo lets you automate the process and create custom VGM workflows to ensure the VGM is submitted on time, every time. Filling in and submitting VGM declarations can be defined as a task within the workflow and assigned to the individuals responsible for it with specific deadlines. The progress of this task can then be monitored from the dashboard to ensure timely submissions.
Faster processing
Delayed generation of VGM declarations or having one of the parties involved lose the document in a cluttered inbox can cause unnecessary delays in your shipping process.
Choosing to submit the same electronically makes communication and collaboration transparent. It ensures that documents are shared and received on time and keeps your containers moving seamlessly.
Improved cost management
When containers are not loaded because of late VGM submissions, shipping costs go up. Shippers may need to pay additional detention/ demurrage charges, as well as warehousing costs for storing the container until the VGM is submitted and the container is loaded onto the carrier.
eVGM through BuyCo makes it easier to track the submission status and thus lowers the risk of having to pay these additional costs and improves cost efficiency.
Filling eVGM with BuyCo
BuyCo streamlines the management of maritime documents like VGM declarations. The platform is easy to use and requires very little training. Shippers can create document workflows with listed document requirements and assign VGM declarations to specific parties.
While doing so, you can also specify document requirements and deadlines for submission. Once the VGM is submitted, the task status on the dashboard is automatically set to "completed".
The VGM generation itself can be automated to a large degree. Rather than having members of your team manually enter shipper, carrier and consignment details, the same can be extracted automatically from your ERP or shipping templates and filled into the VGM declaration.
BuyCo can be used to submit VGM declarations to any carrier along any route. With built-in checks for country-specific regulations, BuyCo also helps shippers comply with global shipping regulations.
Shippers with multiple outgoing containers can track the VGM status for each shipment from their BuyCo dashboard. Once submitted, shippers can get easy access to carrier confirmation notifications through the online dashboard. The dashboard also provides advanced reporting, monitoring and auditing of your eVGM submission history.
eVGM FAQ
Is the weight of a container included in VGM declarations?
VGM includes the weight of the container, all the cargo packed within and the weight of the equipment used to secure the cargo within the container.
Who is responsible for the eVGM declaration?
Shippers named on the Bill of Lading are responsible for eVGM declarations. This may be part of the shipping instructions or provided as a separate document.
Is eVGM mandatory?
VGM declarations may be submitted manually but submitting the same electronically is preferred. Either way, VGM must be declared before a container is loaded onto a ship.
What is the permissible VGM tolerance?
VGM declared by a shipper may not be 100% correct given that container tare may change with wear and tear or vary slightly from the printed weight. VGM differences of up to 5% are usually tolerated.
To learn more about how shippers can automate their container shipping operations check out our e- book on "The Buyer's Complete guide to container shipping".