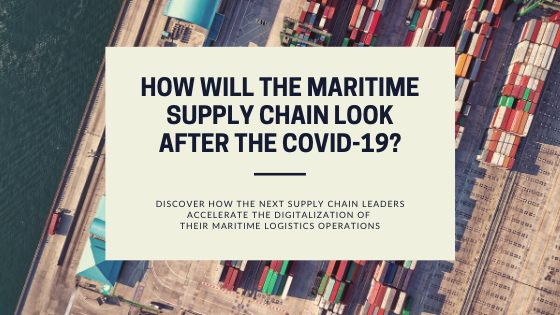 The COVID 19 pandemic has been an unprecedented event with significant consequences for the supply chain.
According to a recent study conducted by the Institute for Supply Management, almost 75% of the companies surveyed say they are experiencing significant changes in their logistics since the wake of the crisis.
In the maritime supply chain, anomalies such as delays, cancelled shipments and other exceptions have mounted at an unprecedented scale. Port terminals are also being affected by staff shortages and government-enforced movement restrictions.
This crisis has severely tested companies' adaptability and flexibility to organize in a new way. Since the beginning of the crisis, governments have been encouraging or even forcing companies to have their employees work remotely.
In this article, we will dive deeper to understand what technological needs and process adjustments are necessary for the maritime supply chain, and furthermore, which changes will turn into long-term best-practices to ensure a more resilient and productive supply chain.
Major disruptions to maritime transport
(Click infographic to enlarge.)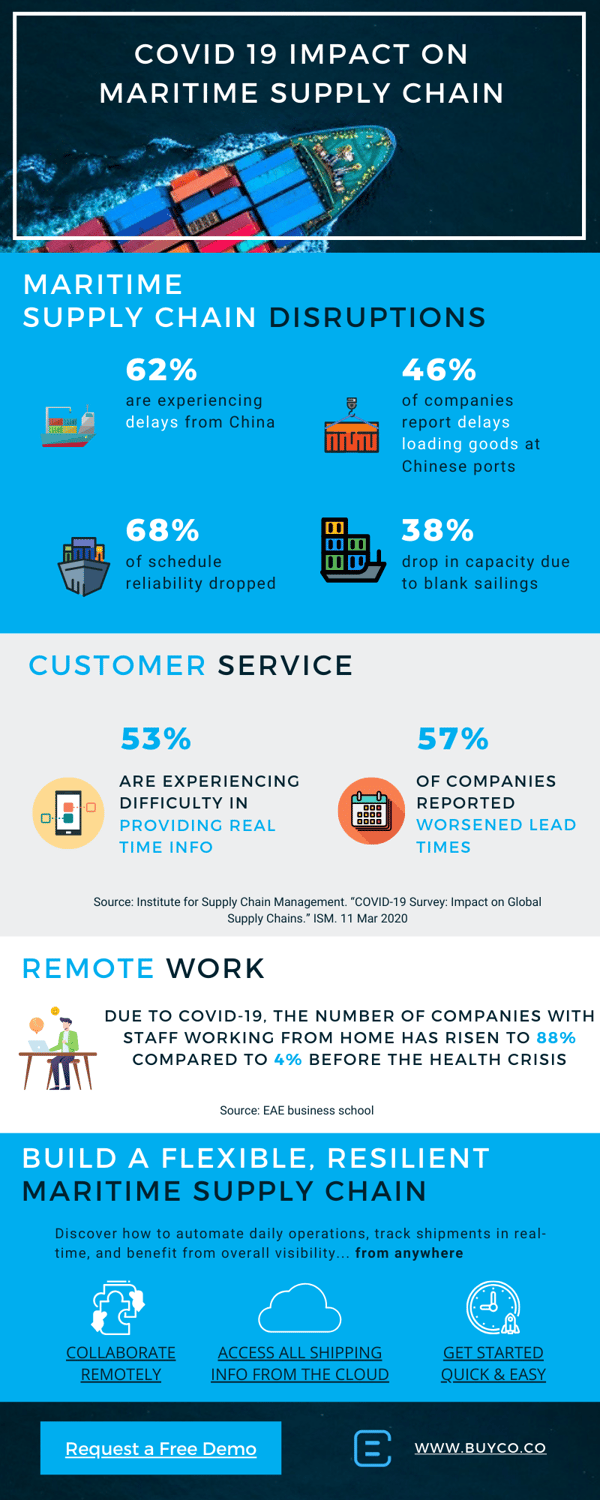 Two main statistics give an overall picture of the disruptions that affected maritime logistics during the COVID 19 crisis:
1) Carrier schedule accuracy dropped 68% in the last quarter.
2) The rate of blank sailings on various trade routes soared: The Asia-North Europe route, which is heavily used in normal times, has seen its capacity decrease by 38% in a few weeks

Digital collaboration and supplier communication
The extreme context puts logistics teams' reactivity and creativity to the test to solve the most urgent situations.
Even before the crisis, 94% of global companies said they did not have satisfactory visibility over their supply chain according to a Geodis study.
This health crisis highlights the importance of collaboration and visibility in making operational decisions more fluid.
Lack of visibility with suppliers
The agri-food sector is among the most affected by the disruptions in the supply chain. During the first weeks of the crisis, many products were out of stock because consumers had changed their buying habits in panic.
In this context, the need for technology quickly became a necessity for this sector to be able to better collaborate with their suppliers and get more visibility over their deliveries to better serve their customers.
How are companies readjusting their supply chains to new constraints?
During an interview on Food Navigator, Nestlé CEO, Mark Schneider, explains how the company anticipates the possible consequences of the crisis on the supply of raw materials. Their flow, if interrupted, could jeopardise the ability of their production sites to continue working. Thus, they are investing significant resources to gain more visibility into their upstream supply chain.
The food & beverage industry is not the only sector to become aware of new ways of working and collaborating for a more flexible and responsive supply chain.
The appliance industry, which has seen the sudden disappearance of physical distribution channels due to store closures, has been able to rely on digital sales to limit economic losses.
In an interview, Gianluca Sperone, Supply Chain Director of Zoppas Industries, explains how his company has been able to anticipate and respond to the challenges of the crisis:
"In fact, over the last ten years, we have launched a wide-ranging program of supply chain digitalization better collaboration with our suppliers across the world and greater visibility over our operations".
And he shared more about the sudden option of remote work, "we have also shown flexibility in our work organization. Internally, we have migrated our employees to working remotely, and take full advantage of digital tools that were previously unused." Then, "we encountered new transport constraints from movement limitations and border closures. Due to a closed border in Turkey, suddenly our trucks could not come back, so we quickly opted for sea transport with minimal loss of transit time compared to the road transport."
The crisis is only accelerating digitalisation. And for proof, Zoppas Industries does not want to stop the momentum. They are planning to start other projects, including to better manage their transportation planning with a solution that will be integrated with their ERP, SAP. They are also looking for tools to improve visibility on deliveries in progress with track & trace information that can represent real added-value to better serve their customers.
Collaborative, cloud, plug & play solutions for a more resilient, flexible supply chain
This crisis will certainly amplify the race to supply chain digitalization, and this will require collaborative, cloud, plug & play solutions.
Today, the maritime supply chain, pressed by the emergence of the health sector, can seize this opportunity to accelerate digitalization and gain new visibility, productivity and flexibility.
Organizational flexibility and remote work
Collaborative platforms for the maritime supply chain are available in the cloud, which allows professionals to be fully operational through a simple web connection from any location, home and/or office, without compromising the security of stored data.
Collaborative and synchronized work model
Employees can store and share documents in the cloud. Everyone, internal team members and external partners, has the same, up-to-date information.
More productivity, more automation and less human error
No need to send an infinite number of emails to your own colleagues or partners to find out where a shipment is. The BuyCo collaborative platform, for example, integrated by EDI with shipping companies, offers updates and alerts on any transport exception- in real time.
Automation is also taking off in collaborative platforms. Workflows and automated tasks are taking over human intervention and repetitive tasks, reducing the number of possible errors.
Your logistics teams can devote their time to tasks with higher-added value, which also leads to a gain of motivation and satisfaction.
Better customer service
Cloud-based collaborative platforms also make it possible to include customers in transportation updates. This is a major advantage because by doing so, customers have the same real-time information about their shipments. They gain visibility and transparency, which has a positive impact on the business relationship. The transportation service thus becomes a lever to create value in customer satisfaction.
Cost reductions
Collaborative platforms, such as BuyCo, also make it possible to monitor the transportation performance of partners. Shippers can now gauge the performance of all their own partners and build benchmarks and best practices to improve their transportation function and customer relations.
Collaborative transport platforms can take into account a large number of variables and aggregate data on transit time compliance, bookings confirmation times, demurrage and detention penalties.. just to name a few.
In addition, by their very nature, the IT development costs of a SaaS solution are shared with all the other users; hence the low cost of these solutions compared to specific or non-shared solutions. And therefore, a further reduction in costs.
Exceptions management
The availability of collaborative cloud technologies provides the supply chain greater resilience by reducing physical and time constraints. They also offer greater visibility and transparency. Teams and logistics partners share the latest information and updates on any given transport file. This allows them to focus on the files that need the most attention.
The Covid 19 as an accelerator of the supply chain digitalization
We invite companies to experience the current crisis as an opportunity to accelerate their own digitalization and make their supply chain more resilient and flexible for the future.
The first step is to detect which transportation modality has more potential gains in terms of productivity, cost reduction and positive repercussions on customer satisfaction.
Next, it is a matter of mapping the latest technologies that offer the possibility to digitize the chosen mode of transportation. In order to better integrate these tools little by little, take time to evaluate their potential and test the solution you have identified on real shipments.
Following the test (commonly known as the pilot phase) you will be able to know whether the solution covers the reality of your needs and is adapted to your flows of your organization.
To help you to better understand the possible ways to improve your maritime supply chain, we propose that you discover the BuyCo solution: