Let's step back a little bit. What happened in the last 10 years in shipping business?
The 2008-2009 crisis had no effect on shipping consolidation: same players shoot again before and after the crisis.
2010-2014: major shipping lines grew more than market due to their investment capacities in new vessels. Consolidation came from organic growth. Between 2010 and 2014, the top 3 players went from 33% to 41% market share; top 10 players went from 58% to 70% (source: Alphaliner and BuyCo analysis).
2014-2018: Record low rates in 2016 accelerating M&A and Hanjin bankruptcy. First vessels of more than 20,000 TEUs were delivered pushing slot costs down.
Technological advances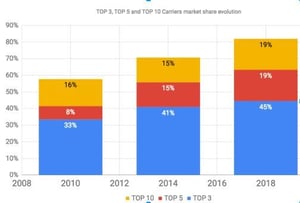 Here is a recap of major equity moves:
2014: Hapag-Lloyd & CSAV
2016: Cosco & China shipping; CMA CGM & NOL/APL; Hapag-Lloyd & UASC
2017: COSCO & OOCL; Maersk & Hamburg Süd; Hanjin bankruptcy
Between 2010 and 2018, the top 3 players went from 33% to 45% market share; top 10 players went from 58% to 82%!
In 2010, the 10th carrier had 3% market share. In 2018, the 10th carrier has only 1.8% market share….
The Journal of Commerce has recently communicated on this topic and you can read the blog post here.
Important trends in the shipping industry
What will go next?
The competitive advantage of top 10 carriers vs. small carriers will increase in the coming years due to several factors:
Slot cost per TEU is much lower for large vessels, mostly within the top 10.

Economy of scale reduces the equipment costs. Empty containers imbalance is naturally optimised within a large fleet.

Huge investment from large carriers in digitalisation projects will improve customer experience.

The next game changer: the increase of fuel cost. Fuel consumption per TEU is lower for large vessels (and top 10 players have the largest ships). With the mandatory use of expensive high quality fuel in 2020, fuel cost per TEU will become more and more competitive for large vessels, post 2020.
Structural costs advantage and improved digital customer experience will provide a massive competitive advantage in favor of large players.
So what will be left to small carriers?
Small ports and niche trades?

Short sea business?

Intra Asia focus?

Becoming feeders for the top 10 companies?

Creating a unique customer service ?

Becoming NVOCC using top 10 carriers vessels?
Time will tell, but important changes are ahead of us.
Our industry has never changed so quickly in the last years, and the near future will be even more interesting.
In this context, if you want to put more digital in your processes, do not hesitate to contact BuyCo!
A Free Personalized Report on your Shipping Operations!